Louisa connects you with the expertise & relations of everyone at your company
With Louisa you always know just the right person
Find who you need to answer your questions or close that deal
Gain insights on, and understanding of, your org and clients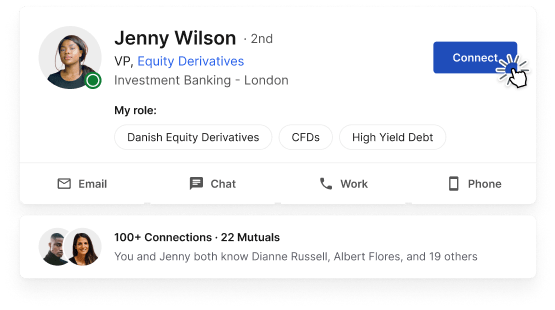 Make connections and expand your reach
Keep up-to-date on your colleagues, clients, and the business
Imagine a world in which everyone at your firm knew, what everyone at your firm knows.
As a newcomer to the firm, Louisa has been invaluable in connecting me with the right colleague at the right time on the right topics, thus helping me to find and deliver to our clients the best advice and capabilities has to offer.
- Chairman of Asia, Investment Bank
When people ask what makes me excited to come to work every day, my answer is always the people. The caliber of our people is the key to our incredible culture and to serving our millions of clients and customers. Louisa gives easy to use, digital access to the full breadth of the great minds and experiences at the firm, whether you've been here 20 years or 20 days.
- Chief Strategy Officer, Investment Bank
Louisa transforms the intellectual and relationship capital of the firm into a digital platform that any one of our employees can access to drive the business forward.
- Global Head of TMT Banking, Investment Bank
Schedule a demo
with our team